Using Your Client Portal
Your client portal creates an online presence for your business - a place where clients can easily interact with you and your team. On this mobile-friendly site, clients can learn about your business and services, as well as communicate with you efficiently. The client portal is where you want your clients to be because it is the one place where they can contact your business without any distractions, the way you intend.
You define which actions clients can take on the client portal- for example, requesting an appointment, registering for a class, paying for services, uploading documents, and more. You can further customize the portal by editing the icons, images and colors and by adding all the business information you wish to make available for your clients.
The site also includes a secure client zone where each client can view past correspondence with your business, set or reschedule the next appointment, share files with you, and see a complete history of interactions with your business. The client portal helps retain customers and provide better service by giving clients an easy way to communicate with your business and take action on their own.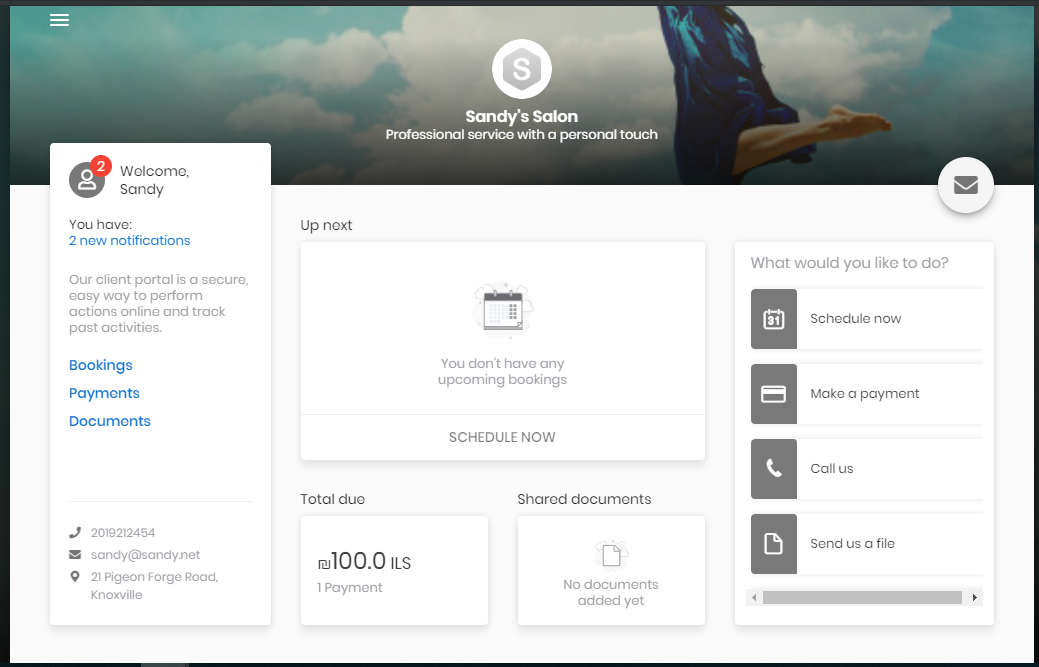 You can easily share your client portal with existing clients by emailing them a direct link from within your vCita account, or by adding the link to your email signature and email campaigns. To invite potential clients to the portal, you can add the link to your Facebook page, LinkedIn profile, website, or any other place you promote your business online.
This article presents:
Working with the Client Portal Editor
The Client Portal Editor allows you to customize and design your portal for desktop and mobile, according to your unique business needs and your brand's look & feel. You can easily create a stunning and engaging web page where your clients can interact with your business by taking direct action: scheduling, paying, sharing files and much more.
To get started, open the Online Presence menu and select Client Portal. Then, at the upper right corner of the page that opens, click Edit Client Portal.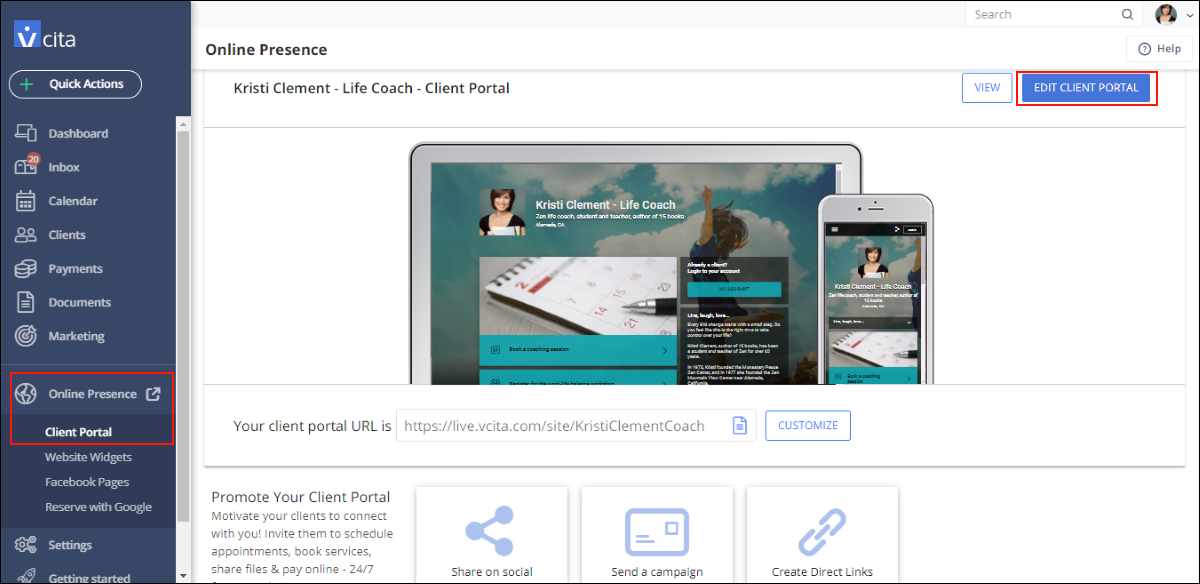 The main features of the Client Portal Editor are described in the table below the diagram.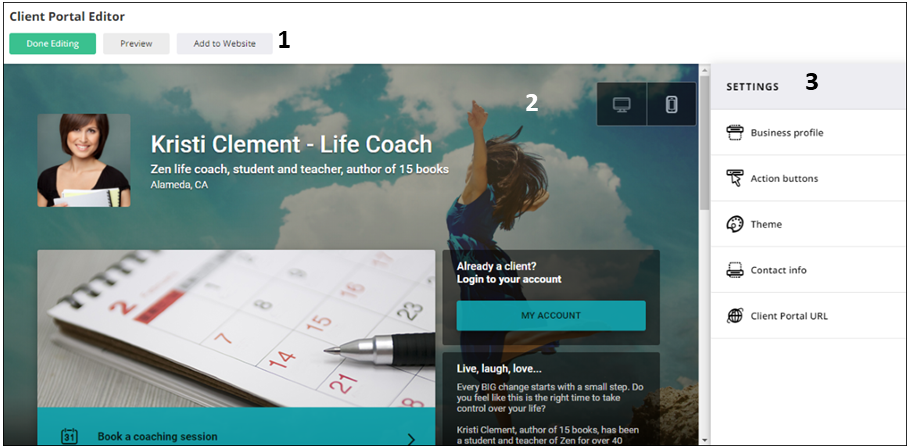 Number
Feature
Description
1
Action buttons

Done Editing: Saves your changes and exits the Editor.
Preview: Opens a new browser page showing the client portal as your clients will see it.
Add to Website: Opens the Website Widgets page, from which you can create direct Call-to-Action links and buttons, Contact Form widgets, Scheduling widgets and more.

2
Preview pane
Allows you to view changes as you make them. The icons at the upper right corner let you switch between desktop and mobile previews.
3
Editing settings

Enable you to set up and design different elements of your client portal:

Business profile: Content about your business and services.
Action buttons: Call-to-action buttons for client use.
Theme: Images and colors.
Contact info: Email, phone, website, etc.
Client Portal URL: Link to the client portal. For more information, refer to Customizing the Client Portal URL.
This example shows where some of the editing settings are displayed in the client portal: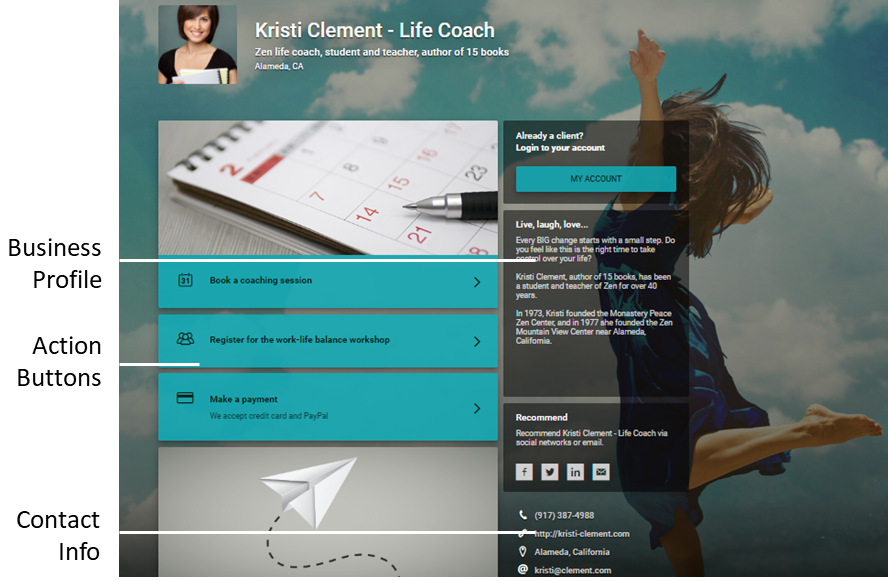 The next section explains more about working with the editing settings.
Setting Up Your Client Portal
The following sections describe the different editing settings and provide some best practices and tips for setting up your client portal.
Business Profile
Business Profile settings include:
Business Info: Basic information such as business name, brief description, image and location. We recommend that you provide your business address to help your client portal SEO.
About Text and Image: Allows you to add a quick intro text, a welcome message or additional content about your business and services. Keep in mind that having a clear message will allow clients to communicate with your business faster.
Recommend box: Enabling this option will allow your prospects and clients to help spread the word about your business by sharing your client portal on their social networks.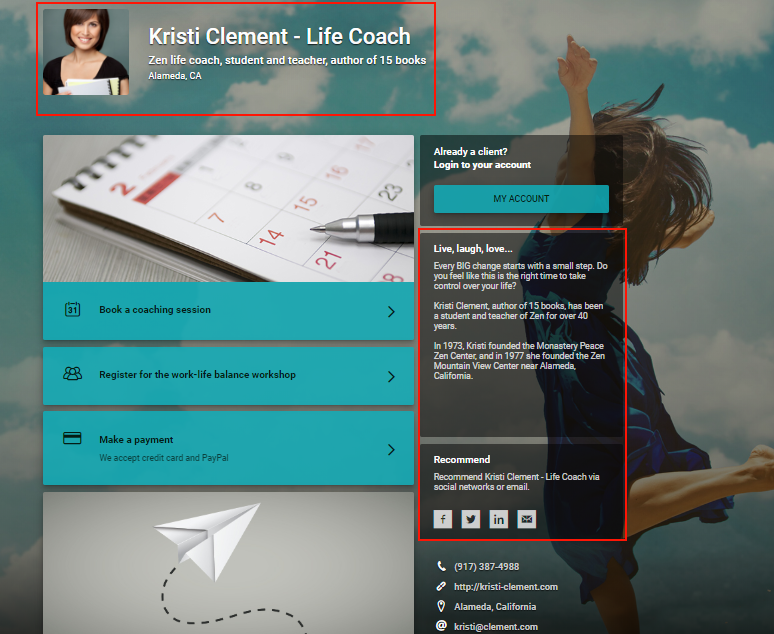 Action Buttons
Call-to-action buttons are the key to a successful client portal. You can add a button for any action you would like to allow clients to take. Help your clients contact you in the fastest way - make sure the actions are clear and that your clients are only seeing the most relevant and necessary information.
You can design each action button differently. Add colors, images and texts to create visual interest and better explain the different options.
Some different types of Calls-to-Action you can add are:
Scheduling: Let clients register for an event, schedule an appointment / service or simply schedule a call back. Your clients will see your up-to-date availability and can select any service, date and time you made available.
You can create an action button that will open the full menu of services and events you offer, or promote specific services and create separate buttons for each.
Payments: Allow clients to pay for services online.
Documents: Ask clients to upload relevant documents that are required to provide the service or to qualify prospects.
Contact: Allow clients to send you an inquiry or contact details.
Call: Allow clients to call your business from any smartphone.
Map: Let clients see your address and easily navigate to your

business using Google Maps

.
Video: Let clients view an introductory video or tutorial from your YouTube channel, Vimo and more.
Social: Add a photo gallery from your Instagram, or display updates from your Twitter account and other social networks.
Content and Links: Add any relevant information about your business and services or add links to external references.
Note: Some of the actions are based on your account settings. For example, you may need to review your scheduler and calendar settings before your clients will be able to successfully schedule with you. To make sure your account settings are currently enabled, simply click on the Missing Info notice and follow the instructions.
Theme
Customize the look & feel of your client portal to match your business brand. You can upload your own background or choose from our gallery. The color you select will apply to the general design, but you can also design each action or button separately.


Contact Info
You can add display contact info such as your email, phone, address and website. You can also add your Facebook profile, Twitter profile and LinkedIn profile, as well as any other links you wish to refer your clients to.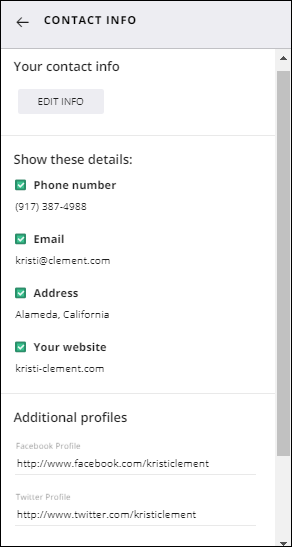 Note: Updating contact info in the Client Portal Editor will also update this information in your account settings.
Customizing the Client Portal URL
You can customize your client portal URL and allow search engines to include your client portal in search results.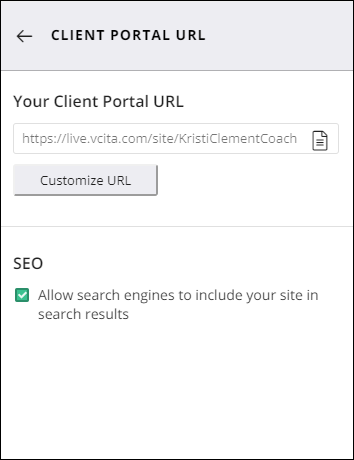 To customize your client portal URL, simply click Customize URL and enter your name or business name. Please use English letters and numbers only, with a minimum of 5 characters.
If you do not want your client portal to be indexed by search engines, simply uncheck the box under SEO.
If you have an available domain, you can redirect it to your client portal URL. Following are some articles on how to redirect the URL in different hosting services:
You can track your client portal page by adding Google Analytics and AdWords conversion code to your site. Read this article to learn more.
Still have questions? Contact us.