Setting Up Your Calendar and Availability
In this article, you'll learn how to set up your calendar to reflect your regular business hours as well as your regional settings, such as time zone and hour format. You'll also learn how to make changes to your usual business hours when needed.
If you are already using existing calendars, you'll see how to easily sync them into your account so you can keep track of all your appointments and meetings in one place.
Why set your calendar in advance?
Setting your calendar according to your availability helps you organize your services and bookings so you don't have to set them each time from scratch.
If you set your hours in advance, you can also be sure that you will not get booked or set your own appointments during your non-working hours.
If you are using an additional calendar outside this account, it's a good idea to sync it to your calendar to avoid double-bookings and stay on track.
Business Calendar Settings
Important: Updating these settings will update the business hours for the whole business. To update your personal or staff availability,
please view this article.
From your account, open the Settings menu and click the Availability & Calendar tile, and fill out your business hours & regional settings.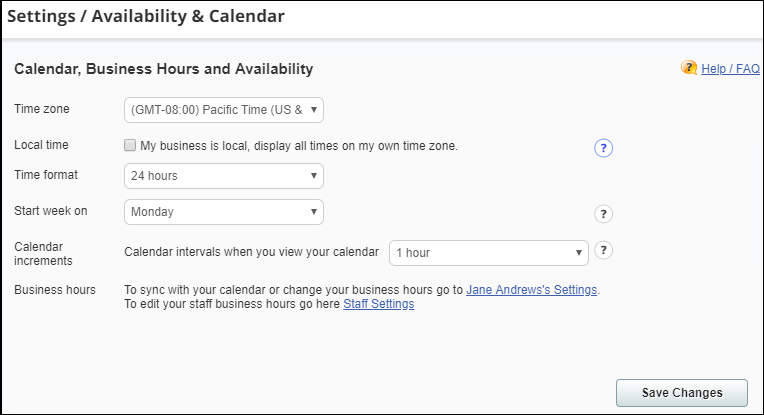 Local time: By default, your calendar will automatically adjust to your client's time zone. If you're a local business with local services, and you do not service any clients outside of your local area, you can check the box to be sure your availability is always displayed in your local time. If you provide any services remotely, you should leave the box unchecked.
Start week on: By default we display the first day based on your country's normal date convention. For example, If you are in Europe or the US, the week will start on Monday. This affects not only your online scheduler, but also the business calendar display.
Calendar display
Calendar increments: The default increment is 1 hour, but you can choose how you want to view the time period separating each slot on your daily and weekly calendar.
For example: If your business runs 4-hour appointments, you may set you calendar intervals to a higher number to see more at once. Alternatively, if you business runs appointments that are 10-minutes long, you may want to change the default to 10-minutes to get a good view of all your appointments.
Start week on: Choose the day you want your weekly calendar display to start with. The default will be determined based on the convention in your country.
In the display example below, the time format is 24 hours, the week begins on Monday and the calendar increments are 30 minutes.
When you are finished filling out your hours and preferences, click Save Changes.
Setting regular business hours
Step 1: From your account's main menu, open your Calendar page, click Edit Calendar and select Business hours & Calendar settings.

Your regular business hours are listed on the page that opens, under General Availability.
The default schedule is Monday - Friday, from 9 a.m. until 5 p.m., and you can customize any of these times to fit your business's availability hours.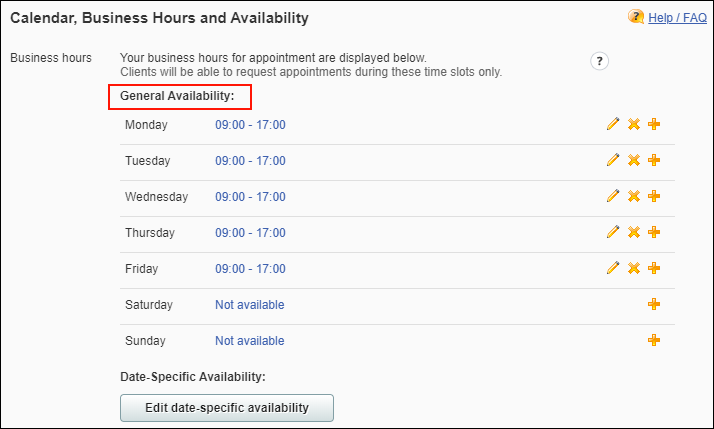 Step 2: Click the icons to create your schedule based on your business hours and when you're open.
| | |
| --- | --- |
| | Lets you change the hours of the time slot. For example: |
| | Lets you add a new time slot. Adjust the hours of the new time slot to those that suit your schedule. |
| | Removes a time slot. |
Step 3: After adding or changing a time slot, click Save.
Changing your regular business hours as needed
Date-specific availability lets you tweak your calendar to allow for temporary changes or one-time events.
To update your availability on a specific date, click on any of the time slots on the date you wish to change.

Click on 'Edit specific availability,' and you can change it. Hover on the date and click on the pencil icon to change your availability. You can change your availability, add additional hours or block the day completely.
Once you're done, click the tick to save your changes.




To restore your availability to your default, click again on the relevant time slot and click on 'Restore default hours'.
Important: The time slots you create and remove here are one-time only occurrences. They will not repeat on a weekly basis.
Blocking off busy time
You can mark any time as Busy Time, even within your working hours.
You might need to do this on the go, in case something comes up, you're on vacation, or just need to make sure no one books appointments with you.
Just click anywhere on your calendar, or directly from your busy time slot and click Mark as Busy.
This will assure you are not available for appointments during that time.
Syncing your account calendar with your existing calendars
When a private calendar is synced with your account, all events marked as busy on the personal calendar will appear on the account calendar.
The busy time from your private calendar will automatically create busy time on the business calendar.
As a result, clients won't be able to schedule during your busy hours and you avoid double-bookings. But don't worry, clients will not be able to see the busy time from your personal calendar.
Here's how you sync your other calendars with your account's business calendar:
Step 1: From your account's main menu, go to Settings > Availability & Calendar.
Step 2: If you have multiple staff members, click the <your name> Settings link at the bottom of the page to open the settings for your schedule.

Step 3: Scroll down to the Calendar Sync section of the page that opens. Under Calendar Pull, in the row of the relevant calendar type, click Sync Availability.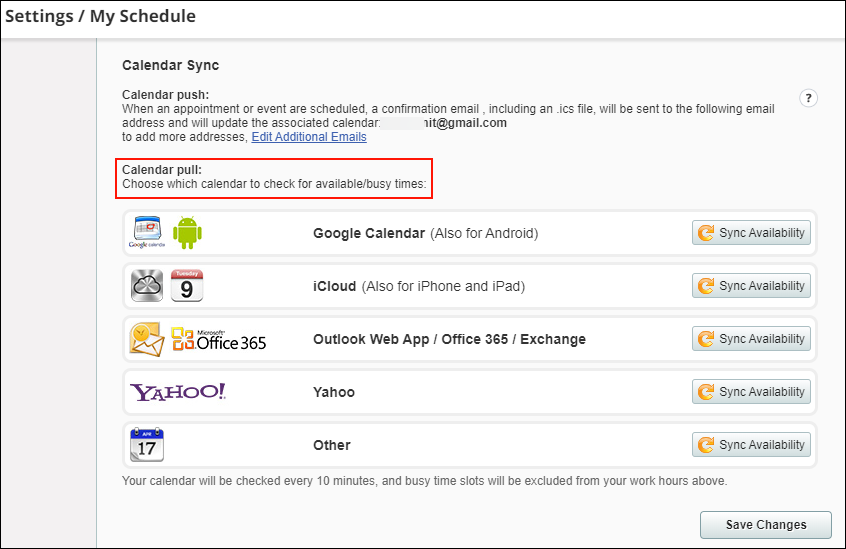 Step 4: To complete the sync, follow the instructions or workflow that is presented.
When you are finished, click Save Changes.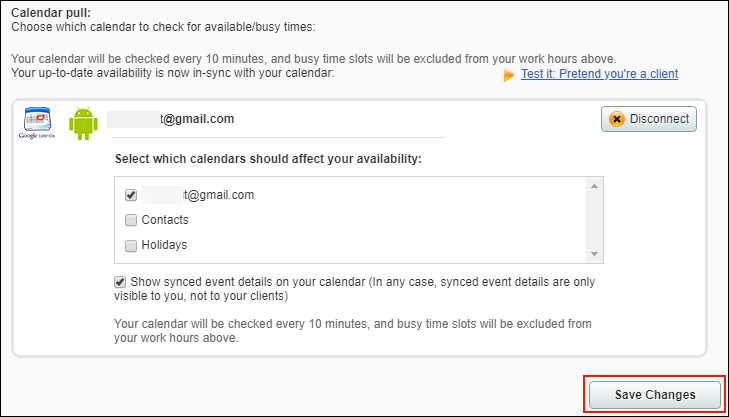 Note: If you want to stop syncing with the calendar, click on "Disconnect".
Important: We check your calendar every 10 minutes for busy time and automatically update your account calendar with any new data.