Customize Your Client Intake Forms
A client intake form collects information from clients or leads when they schedule, pay, submit a contact request or send your business a message. Every intake form collects contact information. Email and first name are required fields, and last name/phone number are recommended. In addition to these defaults, you can include other client fields in your intake forms, so you can collect all the information that you need.
This article explains everything you need to know about customizing intake forms for your business:
Understanding the Intake Forms Tab
To edit Intake Forms:
In your vcita account, navigate to Settings > Client and Contact Info
Switch to the Intake Forms tab.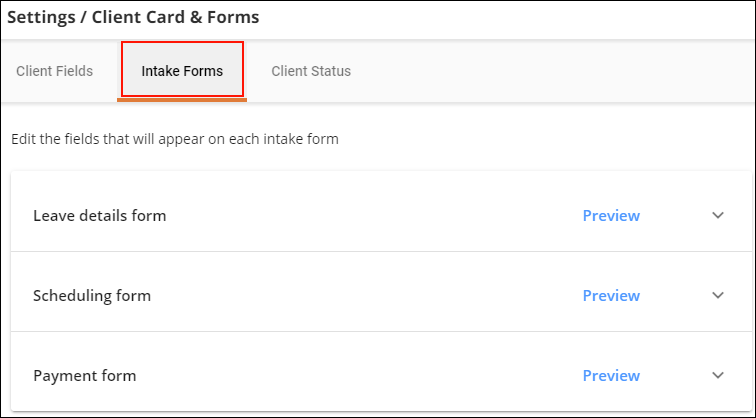 The Intake Forms tab is divided into three frames, allowing you to customize each type of intake form. Clicking

, or simply the row expands the editor.
Intake Forms: Adding and Removing Fields
Adding Fields to Intake Forms
Any field listed in the Client Fields tab can be added to an intake form.
To add a field to an intake form:
In the form editor, click the Add client field button to add client fields.
In the popup, select the field you would like to add to the form from the dropdown list and click Add.
Don't see the field you need? Click Create a new client field to add a new one, or return to the Client Fields tab to add multiple fields. For more information on client fields, click here.


Please Note: The client fields will appear in the same order in which they appear in the Client Fields tab. If you would like to re-order the fields, refer to Viewing and Organizing Client Fields.
Removing Fields from Intake Forms
To remove a field from an intake form:
Expand the form editor. In the Client info details section, hover over the field you want to remove. Click

and then select Remove.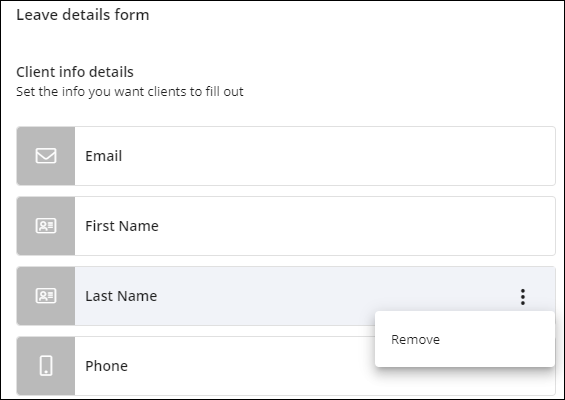 Adding Business Policies and Terms to Intake Forms
You can add business policies and terms of service to each intake form:
Leave Details form: Business policy
Scheduling form: Booking policy
Payment form: Payment policy
These policies will be displayed to clients before they submit the form.
To add (or update) a business policy:
Expand the desired form editor and scroll to the Business policy section. In the row of the policy, click and then select Edit or just click on the row.


The Edit policy dialog opens.
Paste or update your policy text.


Click Save.
The dialog closes, and policy settings are saved. To view the text of your policy, repeat Step 1.
Adding a Terms of Service
Business policy settings for the Scheduling form enable you to add terms of service to the form, in addition to the booking policy.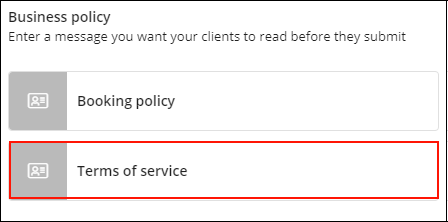 When you use the Terms of Service feature, clients will be requested to accept the terms of service before they submit the form, and they will be able to click a link to view your terms on the web. We recommend using this feature if you have posted official terms of service on an external webpage, such as your business website.
To add terms of service to your scheduling form:
Open the Scheduling form settings and click the Terms of service row.
The Edit terms of service dialog opens.


Select the checkbox. Then, paste your terms of service URL on the line below.


Click Save.
The dialog closes, and your settings are saved.
Client-Side Experience
To preview an intake form as a client, click the blue Preview link next to any form.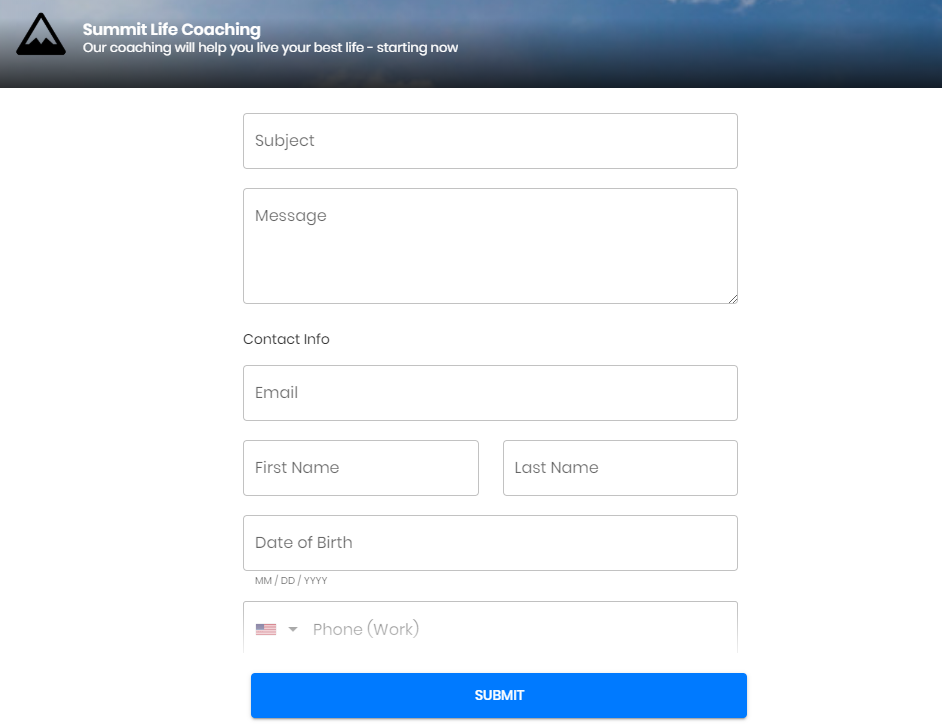 New Clients
New Clients will have to fill out all the required client fields
On submitting the form, a new client will be created in your clients list.
Logged in Clients
Forms behave differently for clients who are logged into their client portal.
Any previously filled out client fields will not appear again
Empty client fields set to "Display until filled out by client" will appear until filled out
Please Note: The Message box in the Leave Details Form will always appear to logged-in clients regardless of your message settings.