Sharing and Applying Coupons
When you click in the row of any active coupon on the Coupon Settings page, a dialog offering several methods for sharing your coupon is displayed.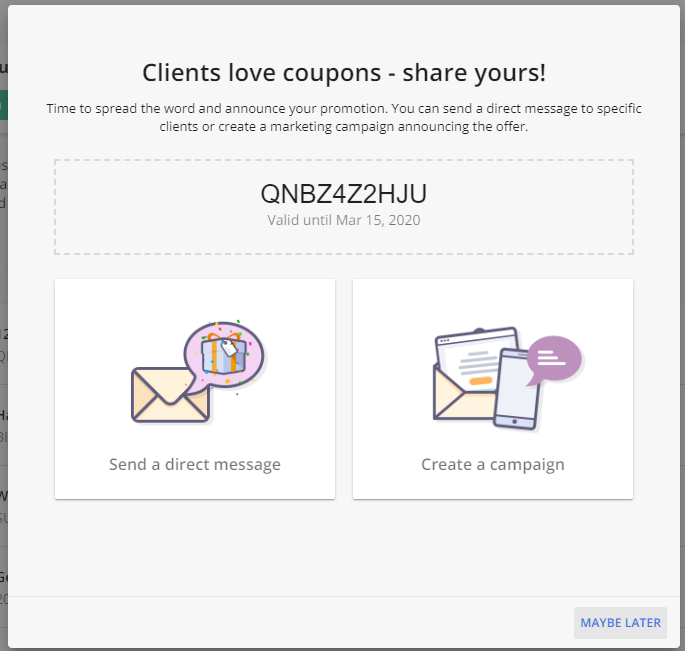 This article describes the different options for promoting your coupon, and explains how you can apply the discount to a client's pending payment without the client actively redeeming the coupon. 
Note: Coupons are available for subscriptions of Business and higher.
Promoting a Coupon
The Share Your Coupon dialog provides three methods of promoting the coupon.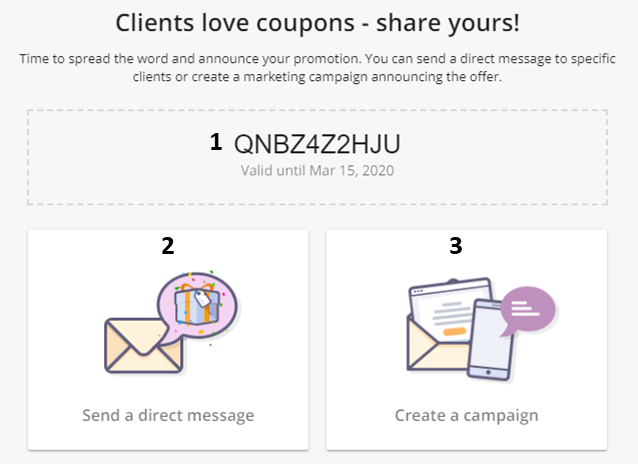 Sharing the coupon code: You can copy this code and paste it into any media of your choice, e.g., your Facebook page. 
Sending direct messages: Clicking this option opens a dialog where you select clients who will receive an email promotion. The coupon code is automatically included in the email message. 


Sending an Announcement: Clicking Create a campaign opens a pre-designed Announcement that includes the coupon code. 



For more information about  designing Announcements, refer to Editing Announcement Settings. 
Applying a Coupon to Pending Payments
Sometimes you may want to offer clients a discount without them having to actively redeem coupons. You can do this by applying a coupon towards the relevant payment, from your vCita account.
To apply a coupon to a pending payment:
After logging into your vCita account, open the Payments menu and select Invoices & Bookings. 
Click on the relevant pending payment. On the page that opens, scroll down to the Pending section to view payment actions.


Click  and select Apply Coupon. 


The Apply Coupon dialog opens.
Open the list and select the coupon you want to apply. Then, click Save. 


After the coupon is applied, the Pending section displays the adjusted amount due.