Connect vcita to Other Apps Using Zapier
Most business owners use multiple tools and programs to keep all processes running smoothly. Zapier integration easily connects your vcita account with your favorite applications such as MailChimp, Salesforce, Google Sheets and hundreds more, so you can save time and boost client satisfaction.
When vcita is integrated via Zapier, you can automate many of your time-consuming business workflows. For example, when a vCita/Mailchimp connection is set up in Zapier, you won't need to manually import and export data to add a new vCita client to your Mailchimp mailing list. It will all be done automatically, behind the scenes.
Here are some more examples of how Zapier integration can work for you:
Engage your complete client base with vCita: Sync your vCita contacts list with other tools you use, such as Google contacts, phone contacts, the Contact Form on your website, and more.

Run your business smoothly with your favorite CRM: Connect vCita contacts, appointments and payments with CRM software (Salesforce, HubSpot, etc.) to manage and analyze customer interactions and data throughout the customer lifecycle.
Keep your books in sync: Sync your vCita account with your preferred accounting system (Quickbooks, Stripe, FreshBooks, etc.) to ensure that all payments are automatically recorded and documented properly.
Read the sections below to find out how Zapier integration works and how to create a connection (Zap) between vCita and a third party app.
How Does Zapier Integration Work?
The workflows, or Zaps, that you set up in Zapier transfer data between your applications and carry out an action when that data is shared. The application that sends data is the Trigger application, and the app that receives the information and responds to it is the Action application. For example, when you create a new client in vCita (trigger), vCita sends the client details to Mailchimp, and Mailchimp adds the new client to your mailing list (action).
In a Zap, vCita can be either the Trigger app or the Action app.
vCita as a Trigger App
When vCita is the Trigger app, you can choose ONE of the following triggers for each Zap you create:
New Client
New Appointment: One-on-one bookings only. Events are not supported as triggers.
New Invoice: Invoices that have been sent. Invoices in Draft status are not supported as triggers.
New Payment: Payments with a status of Paid. Payments with a status of Incomplete, etc. are not supported as triggers.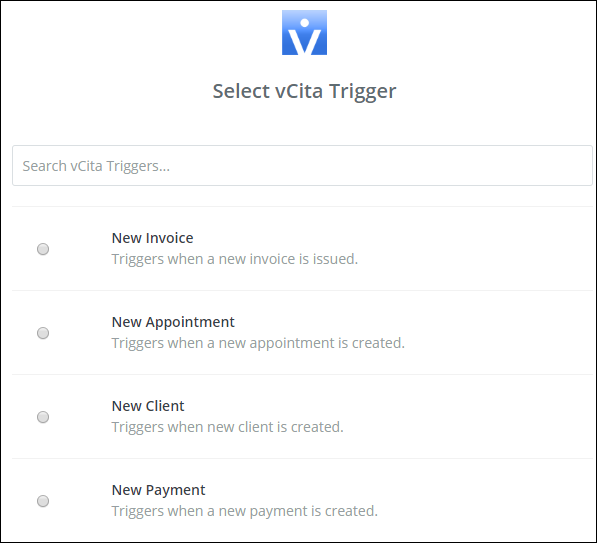 Whenever any of these triggers are activated within your account or through the Client Portal, vCita will report data to the third party application, and that app will take the action that you've set in the Zap.
NOTE: The success of the Zap depends on the integration options made available by the third party application. While vCita will send all available information, the Zap will not work if the Action app was not programmed to receive any information.
vCita as an Action App
When vCita is the Action app, you can choose ONE of the following actions for each Zap you create: Create Busy Time (on your vCita calendar), Create Client, Create Conversation, or Find Client (searches for an email in your vCita contacts, and creates a new client if the email isn't found).
NOTE: The Create Client action is based on the client's email. If the email address received from the Trigger app matches an email that already exists in your vCita client list, a new client will not be created.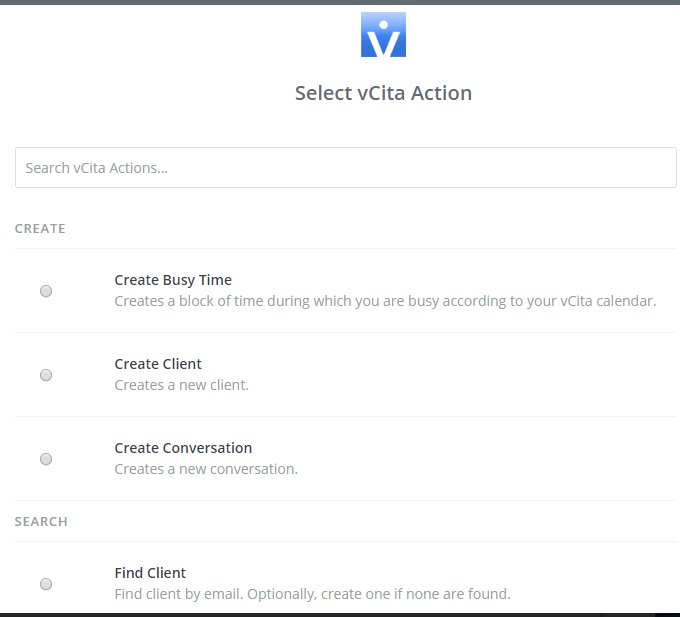 Whenever vCita receives relevant data from the third party application (based on the trigger that you set in the Zap), the selected action is carried out in your vCita account.
How to Create a Zap
To create a Zap, you need to specify the Trigger app and select a trigger, and then choose the Action app and select an action. At various points during the process you will be prompted to provide account information for your apps, set up testing parameters, and so on. Zapier's step-by-step wizard will guide you through the entire procedure.
To make things even easier, Zapier provides setup templates for the most common integrations involving vCita. When you click Use This Zap, Zapier opens an explanation of the Zap and presents a shortened version of the setup wizard (since your apps, trigger and action are known).

The following procedure shows an end-to-end example of how to create a Zap. (If you choose a template, you will see only some of these steps.) Note that in this example, which involves making a new Mailchimp contact when you create a client in your vCita account, vCita is the Trigger app.
To create a Zap integrating vCita and Mailchimp:
Log into your Zapier account. At the top of the Dashboard, click Make a Zap!
The Zap setup wizard opens, prompting you to choose a Trigger app.
At the top of the page, enter vCita in the Search field, and then select the vCita app.



The Select vCita Trigger page opens.
Select your trigger (New Client, New Appointment, etc.), and then click Save + Continue.
The Select vCita Account page opens.
To integrate your vCita account with Zapier, click Connect an Account.


The following page opens:




Log into your vCita account. At the lower right corner of the Settings page, click Integrations. Then, in the Zapier section of the Integrations page, click Connect.
The API token appears at the bottom of the popup that opens.




Click Copy To Clipboard. Then, go back to Zapier, paste the API token in the field, and click Yes, Continue. Then, on the Select vCita Account page, click Save + Continue.
If the Samples page is displayed, click Continue. (You don't need to set up anything on this page.)
On the Test vCita page, click Fetch & Continue. When the test is successful, click Continue.
Set up your Action app:
Select the application, action, and account, using the methods described in the steps above.
Set up a template / options for testing purposes by matching up vCita fields with the fields of the other application. (The fields may not always match up exactly, but you can edit your vCita account Client Card settings to create fields that better match your other applications.)
For example:




At the lower right corner of the page, click Finish.
Give your Zap a meaningful name, and, to activate it, turn it ON.
NOTE: It is highly recommended to always take the time to test your Zap during setup and make sure that everything is working smoothly.